Product Testing
---
Majestec Premium Security Doors & Windows are a world-class quality product that helps your family while providing security and unobtrusive views if the outdoors Majestec products are available in wide rage of configurations and 7 colors of frame to suit your personal requirements. Majestec is architecturally designed to easily incorporate into general doors & windows, whether aluminium, UPVC or wooden framed, for both new and existing properties.
Knife Shear Test
(Knife Shear Test AS 5041-2003)

A standardized compliance test for security doors & windows: a specifically selected knife is used to simulate an attack on the mesh, repeated 3 times, in constant directional force (vertical force 15 kg (150 N); horizontal force 35 kg (350 N); at a valocity of 6 mm/sec). MAJESTEC successfully passes and exceeds Knife Shear Testing in accordance with AS 5041-2003
Dynamic Impact Test 5041-2003

Another standardized compliance test applied to ensure impact resistance to the fixing system of a sash panel and components. The test comprises a heavy bag (42 kg) swug to directly impact the mesh, repeated 5 times, in varying direction. MAJESTEC easily passes and exceeds Dynamic Impact Testing in accordance with AS 5041-2003.
Jemmy Test AS 5041-2003

A strength test designed to simulate attempted forced-entry by burglars and intruders using an implement to prise open doors and windows or break locks and hinges by applying leverage forces against the locking, fastening and hinging points. MAJESTEC easily passes and exceeds Jemmy Testing in accordance with AS 5041-2003.
Salt Spray Test ASTM B117

A corrosion resistance test for all metal components. An accelerated climate machine (1,000 hrs equivalency to 10 yrs) produces a corrosive attact on coated samples, accurately measuring the suitability and resistance of the protective finish to corrosive agents such as exposure to costal waether conditions. MAJESTEC easily exceeds such standard.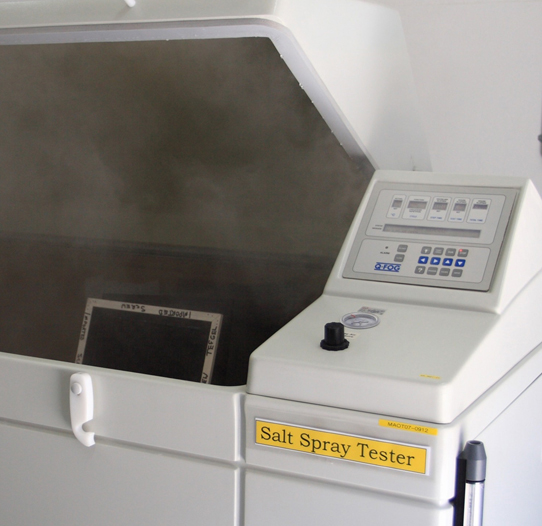 Handles, Locks and Harware. Only tested security hardware is selected, strength and durability. Incorporates a 'Multi-Point-Lock' system especially designed for Majestec with one simple locking action.
WHAT MAKES US DIFFERENT FROM THE COMMON WIRE MESH?
To ensure that our products can meet safety and aesthetic requirements, so the manufacturer conducts test as Australia standard ensuring that the products meet the required standard before delivery to our customers.

- The company provides guarantee of the permanence of Majestec' frame color and mesh color for 10 years.
- The company provides guarantee of the use of hardware* and accessories for 1 year after the installation date*.
- Moreover, we are the first manufacturer who has our own laboratory with ISO / IEC 17025: 2005 (TIS. 17025-2548) scope of testing of sharpening with blade. It is an accredited laboratory of the Thai Industrial Standards Institute (TISI), Ministry of Industry.

WHAT MAKES US DIFFERENT?
Majestec's safety wire mesh is made from high quality stainless steel with high tensile rate for tensile and impact resistance. It is processed by machinery from Germany, designed by engineers of Meshtec to maintain the tensile value of stainless steel during production to ensure that Majestec's products will have durability and strength as international standard.